Hello everyone ♥
As some of you might now [especially Julie and Carmen XD I miss you guys], I can get really passionate about cosmetics, even though I am sometimes too lazy to use any.
I'm not quite seeing the logic in that, but nevermind.
When I put on make-up, I try to treat myself to these goodies below ♪
Following this post, there will be two or maybe three similar ones where I recommend some products. I hope you like this idea as I am not a 'Beauty Blogger' ♥
Now on we go ~
oh and of course all these opinions are based on my own experience
pff~ I was just talking to Julia about how we don't get sponsored for really cool stuff xD Anyway haha ♥
For me, all of these products work really well. This includes that they
last long
, that they don't smudge etc. But everyone is different, don't take my word. :)
I'm sorry if this is just a mix of
German and British Make-up brands
. If I go to China or America next year, I will get my hands on different stuff.
Part 1: Decorative Cosmetic
Lips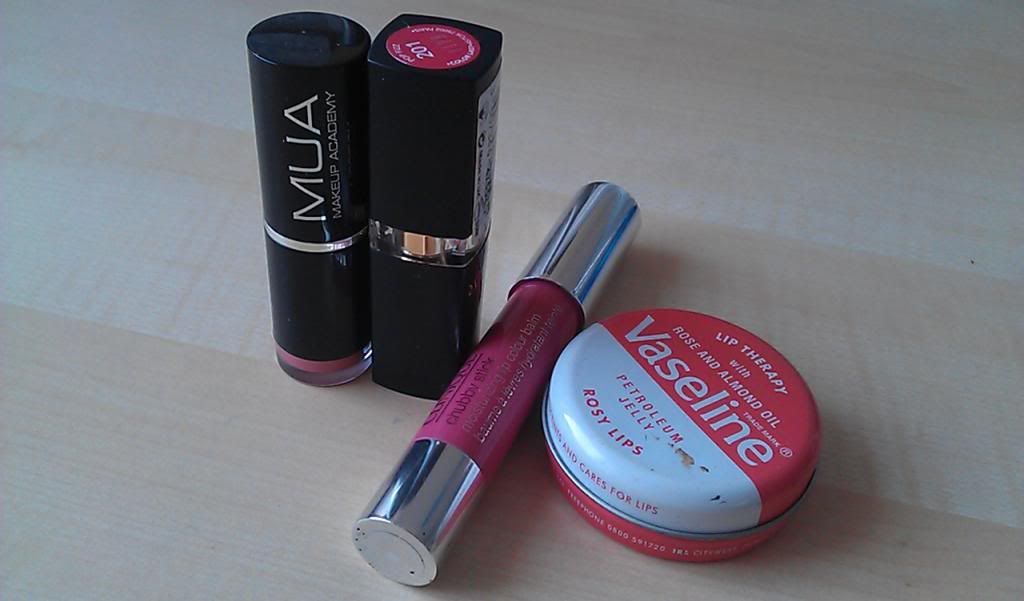 MUA Lipstick
♥
Astor Lipstick
[It lasts quite long and the colour is matte and bold which I love, I have number 201]♥
Clinique Chubby Stick
[Surely my favourite of all; I've heard there are some pretty good dupes though. My colour is 14 Curvy Candy]♥
Vaseline Rosy Lips
[Any British girl who doesn't use it? It is lipcare but leaves a nice rosy glow]
Eyes & Eyebrows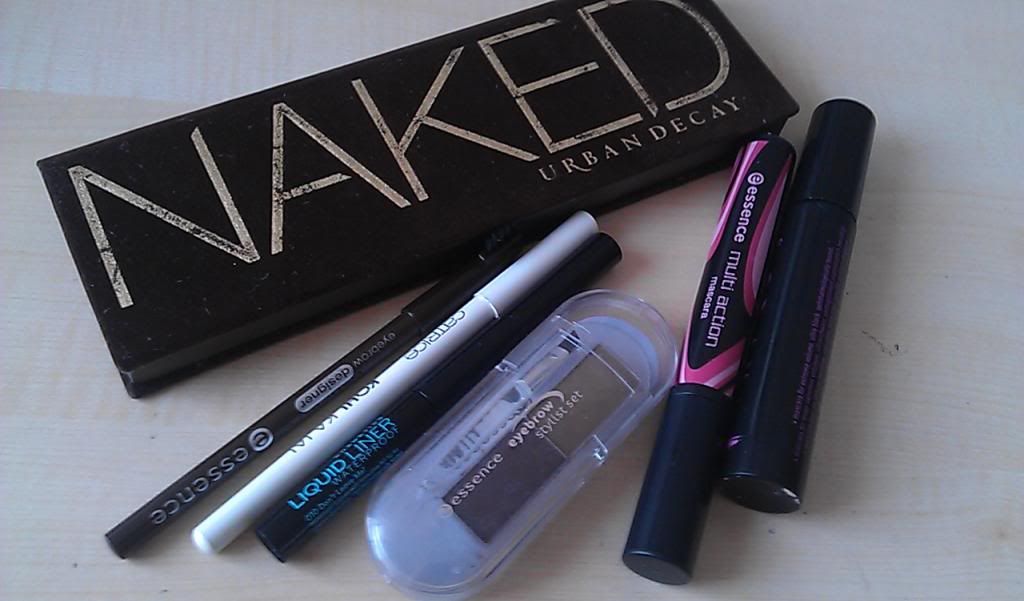 Naked Palette by Urban Decay
[The ultimate palette in my opinion! None of my eyeshadows can beat it haha. I'm sorry that it looks...not very clean but I take it everywhere]♥
Essense Eyebrow Pencil
[sometimes I use it before I add powder]♥
Catrice Kohl Eyeliner in white
♥
Essence Eyebrow Stylist Set
[my favourite! You can't tell from the picture but I use it a lot]♥
2 Essence Mascaras
[Multi Action and Xtreme Lashes; I use the bigger one for my upper and the other one for my lower lashes, but these are maybe the only products I am not 100% happy with]
Face Make-up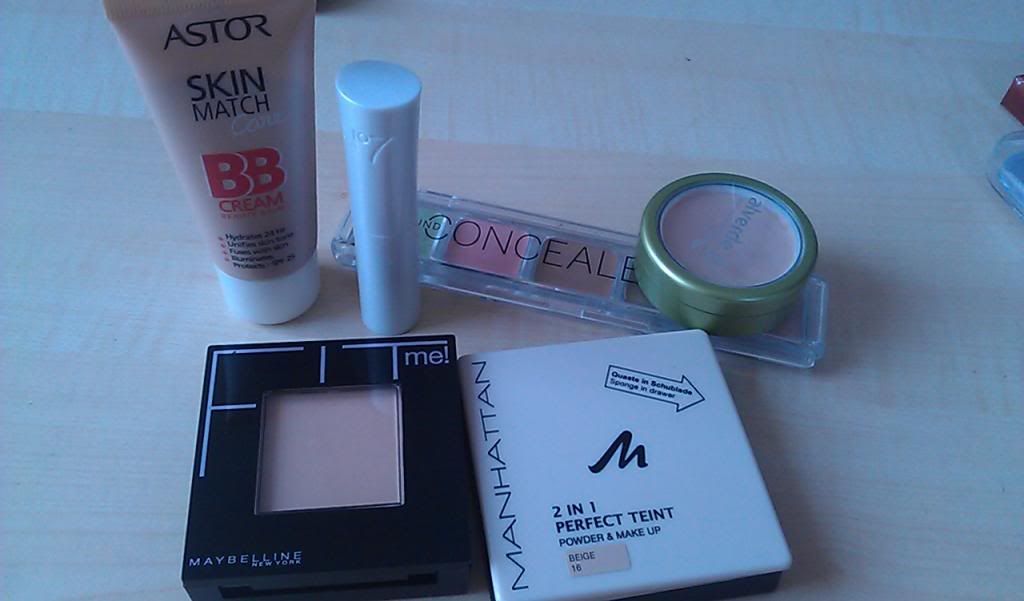 Astor Skin Match BB cream
[it can't compete with Asian BB creams I guess but it is okay; my skin is really pale so I had a hard time finding a BB cream]♥
Boots No. 7 Concealer
♥
Catrice Concealer Palette♥ Alverde Concealer
♥ [Okay yes, I have quite a few concealers and so far I like the one by Alverde best but the consitancy is really thick :/ I guess one day I have to try a MAC]♥
Fit me! Poweder by Maybelline
[it's really nice and does not cover a lot but it doesn't leave my face 'caky'. So if this was an advertisement I'd say 'for a natural finish']♥
Manhattan 2 in 1 Perfect Teint Powder & Make-up
[I love this! It comes with a mirror and a nice applicator. This is my 3rd box]
Blush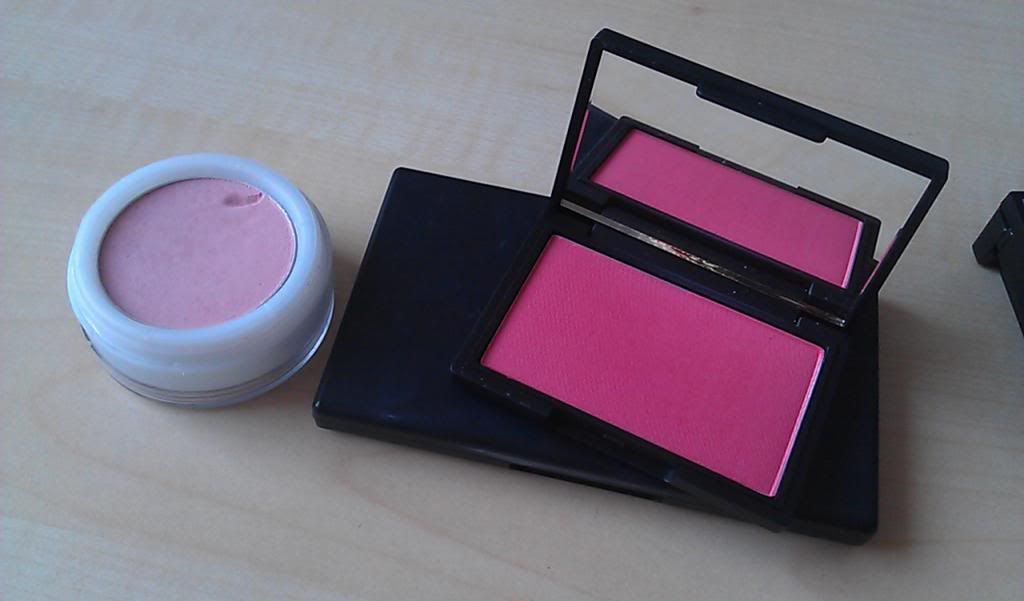 Only British products ♥
Natural Collection Blush
[my colour: Pink Cloud And uhhh I don't know why it is a little broken]♥
Sleek Contour & Blush Palette
[not open because very messy]♥
Sleek Blush
[my colour: Flamingo 937. For Sleek in general, I'd say that they are super nicely pigmented and I only use very little amounts. Sleek is only for the skilled though haha~ ]
Now I have to go to uni ♪
On a sidenote: I recently started teaching Maths, German and English to children from poor families, uni is going well, my boyfriend will visit me soon and I started to play tennis again (I took part in many competitions before I had my final exams at school and I missed it a lot). Also I started hanging out with my best friend from childhood again :)
The past couple of weeks were stressful and I had some issues like 'what do I want to do with my life' but I didn't want to annoy you with that ~
I guess I am fine now and I'm looking forward to summer!
Did you like this post?
Kisses,
Ke