Hey everyone ♥ I am in such a posting mood at the moment. Hopefully I am not annyoing anyone.
Anyway, this will be a quick one.
Here is my YOLO food
(you only live once, I learned that meaning recently.)
They called this baby "French Apricot Pastry" at M&S and I think this name is not appropriate.
I call it: Grand Four
Just like the 'petit four' only that it is...y'know...big. blablabla whatever. Sorry.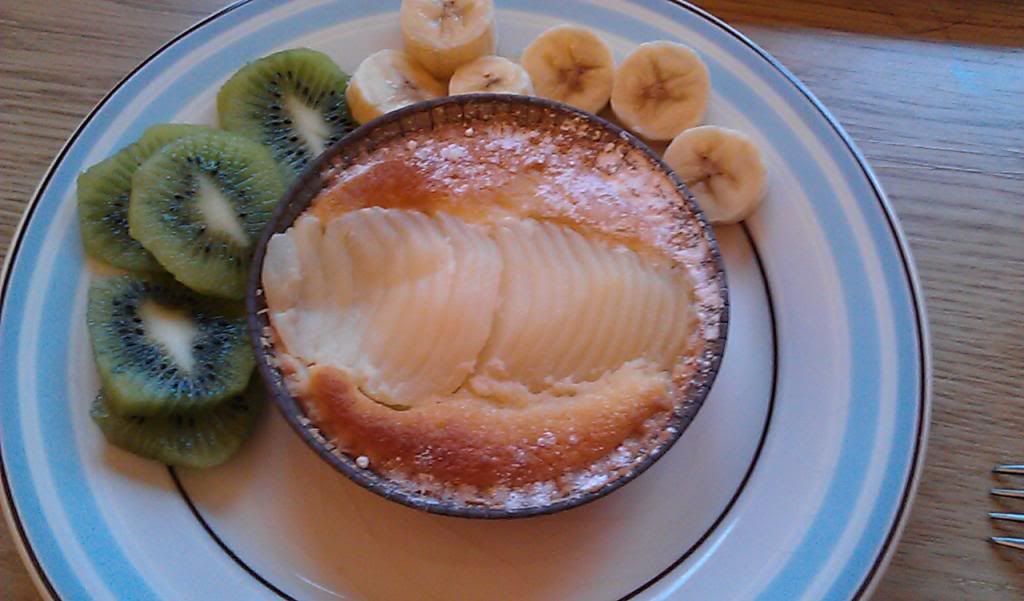 Macarons ♪
Feeling very French.
It's the first time I saw them in a supermarket for a very good price so I was like ajfgfjf need to get them.
I wasn't a fan of the chocolate ones though.
Healthy time ♪
Wholegrain Cereal, natural yoghurt, banana, almonds, some honey ♥ And if you wonder what this thing on the right is-yep it's my duvet. Had breakfast in bed on Saturday.♥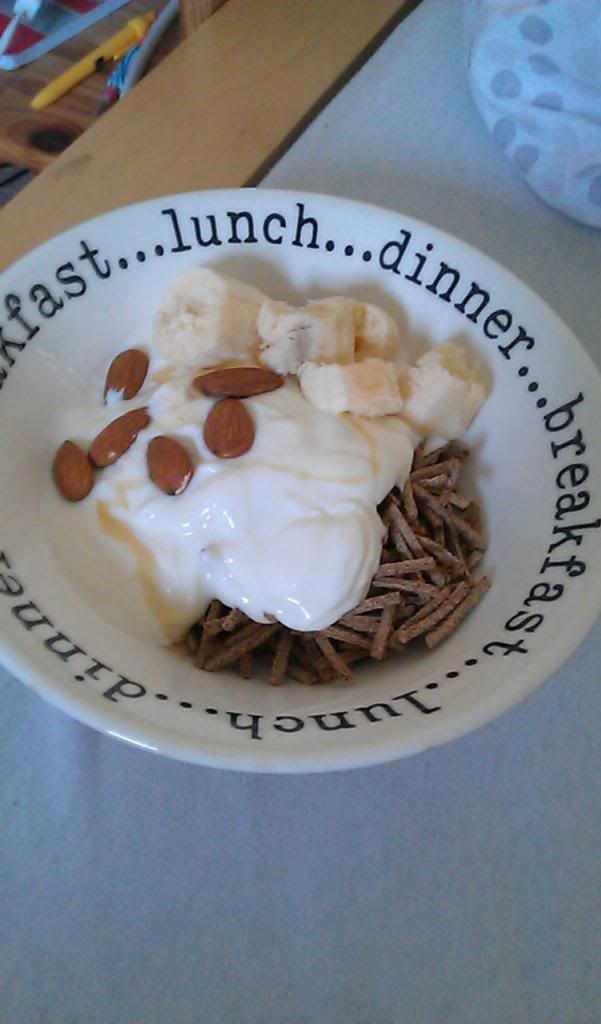 I would like to show you some outfits too hehe~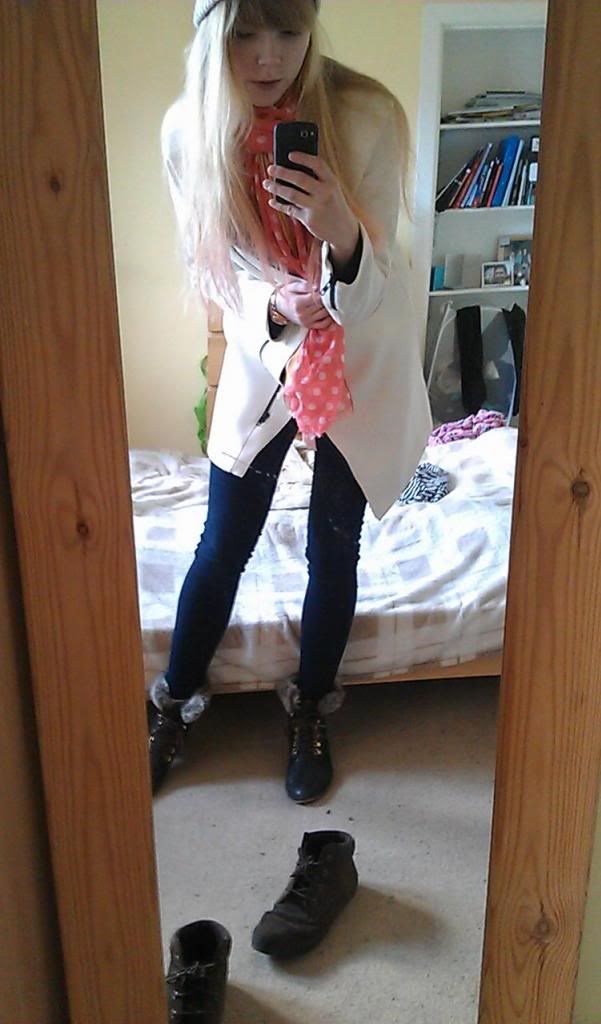 I am wearing just comfortable stuff at the moment. Evene though the sun is shining, it's still cold.
Hopefully that will change soon♪
There's still my little beany (no clue how to spell this, I mean the hat) ♥
Actually I got quite few comments//compliments for this coat. Sorry that you can't see it so well on these pictures but actually I wore it all the time in London so if you look at these posts again you will recognize it. My dad saw it here in Aberdeen and he bought it although it was pricey. He insisted XD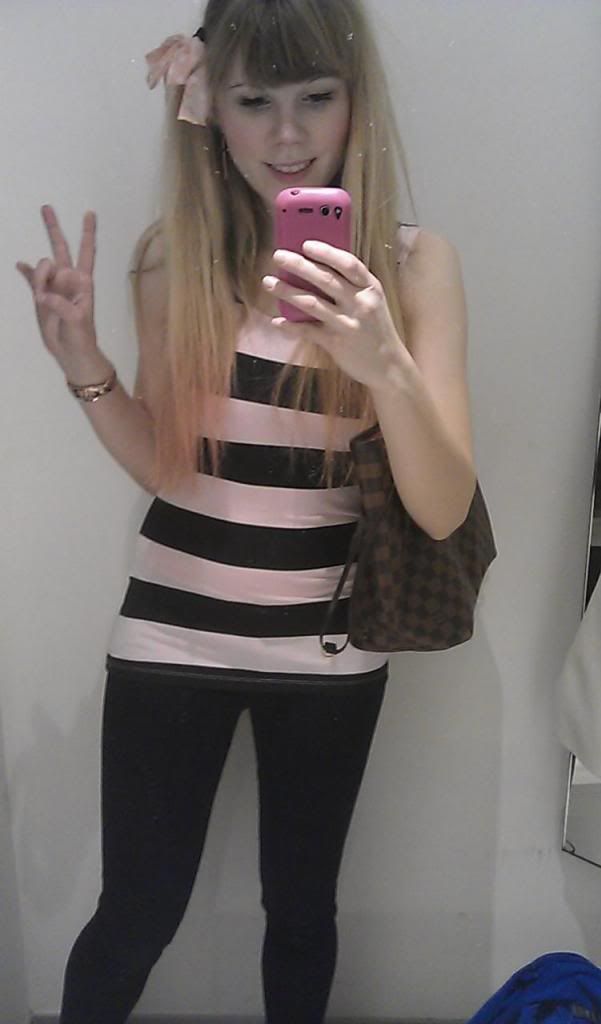 My boyfriend says that my hand is doing something between "hardrock haleluja" and "peace! :D Ignore this.
Summer Outfit yay! In...the changing room. Would you believe that this shirt was only 2,50 pound? H&M children section haha ~
Looks totally Jack Wills in my opinion.
Here is the F21 bow from London ♥
Btw my latest issue with my hair is that, well yes I am legally blonde but the hair in the lenghth is way lighter than the hair near the head :/ as you can see, I become brown-haired. For my family, that's pretty normal because all of them used to be blonde when they were children and then they got brown hair. Looks as if I had died my hair but I swear I didn't :'(
Emilia already suggested adding highlights at the top but hm...not sure.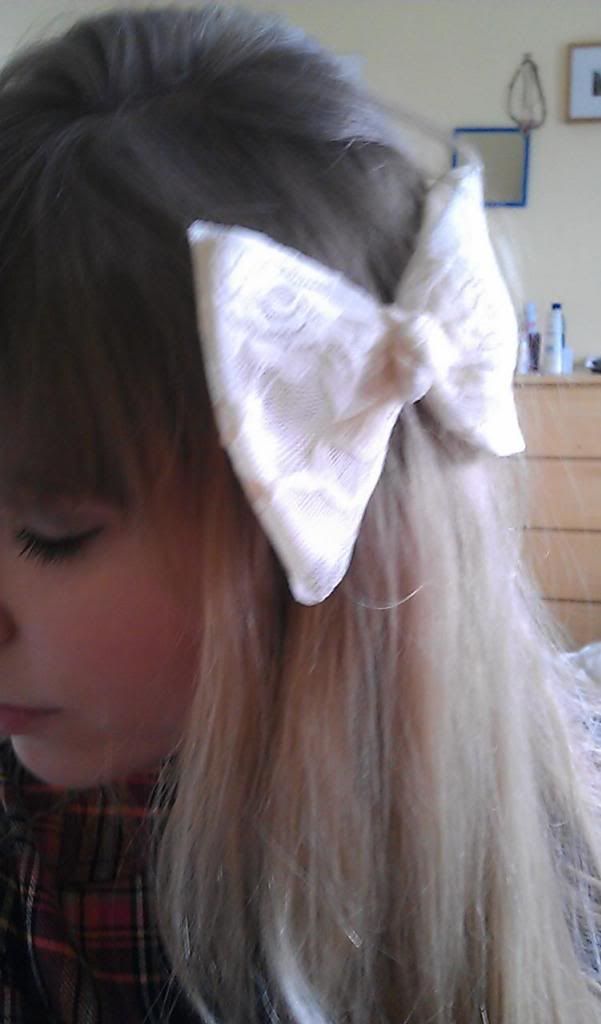 Today ♪ I went to Culter (outside Aberdeen) with friends again.
The shirt is from Primark ♥ They have really nice spring items.
The trousers are not new but if anyone is interested: They're from Cubus which is such a nice store to buy trousers in Hannover ♥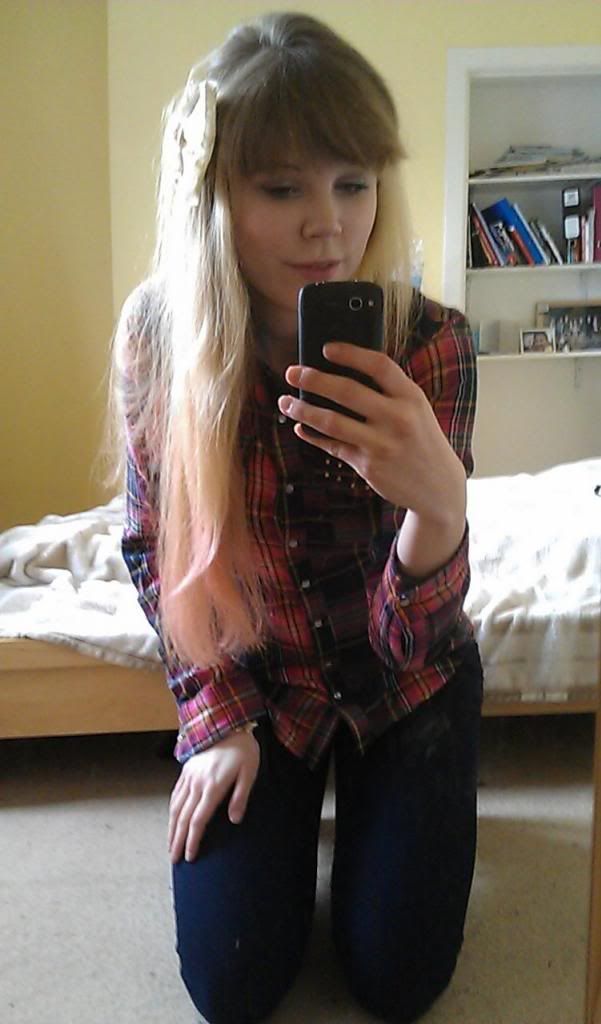 Here is the MyMelody Shirt mentioned in the London Haul ♪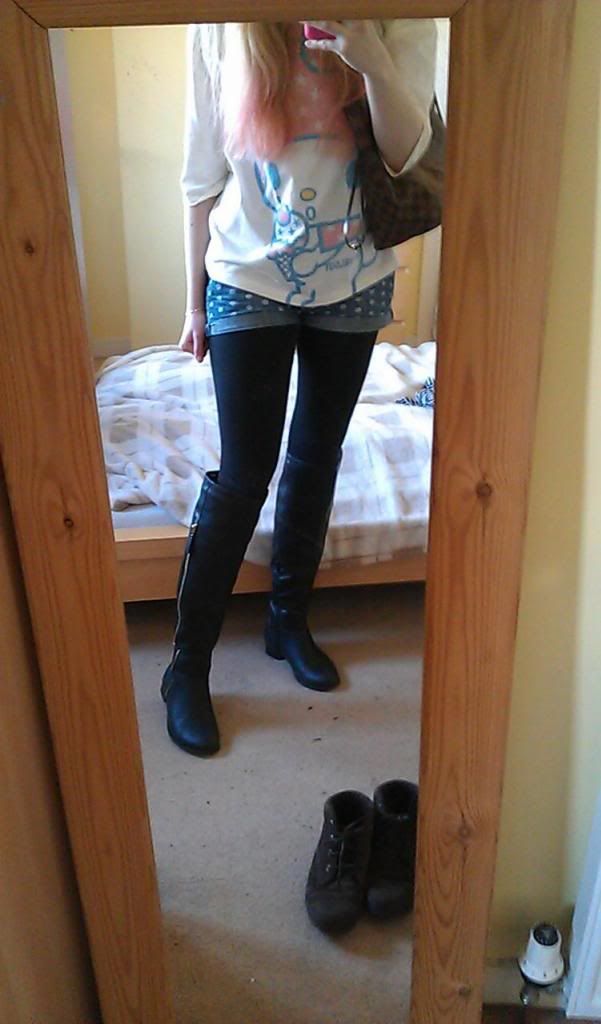 Here is my favourite! The shirt from Pull&Bear. I believe their label headquarters are based in Barcelona? I discovered it last summer and I was super. happy to discover this store in London.~
the prices are H&M-ish ♪ But the style in general is more like Zara I'd say.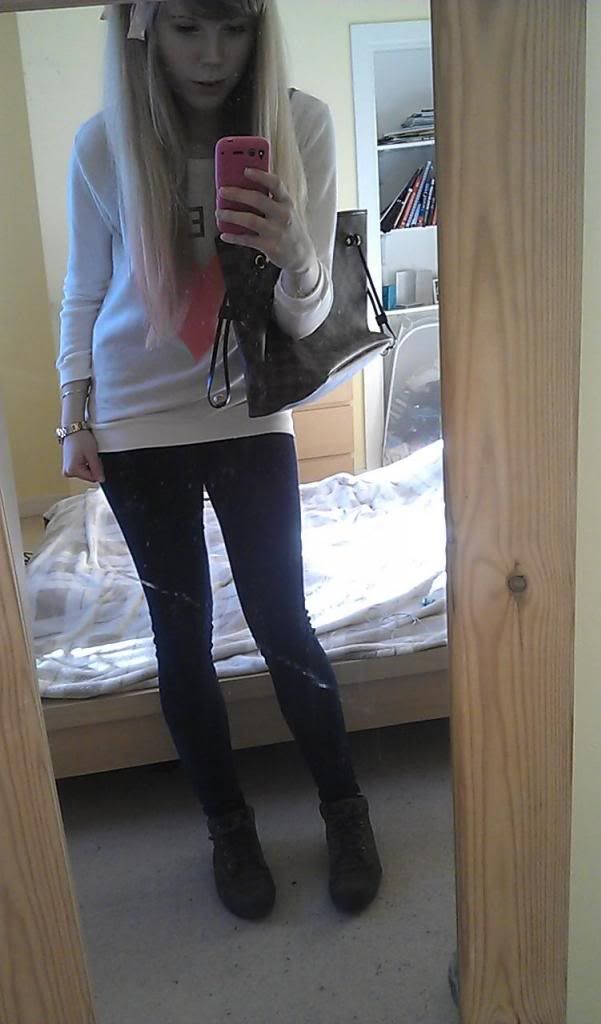 Happy Pose :)
I'm in love with Japanese and Korean Drama and maybe this is something the girls would wear~
Oh and the Neverfull seems to go with everything. I have it for a week now and I love it more every day.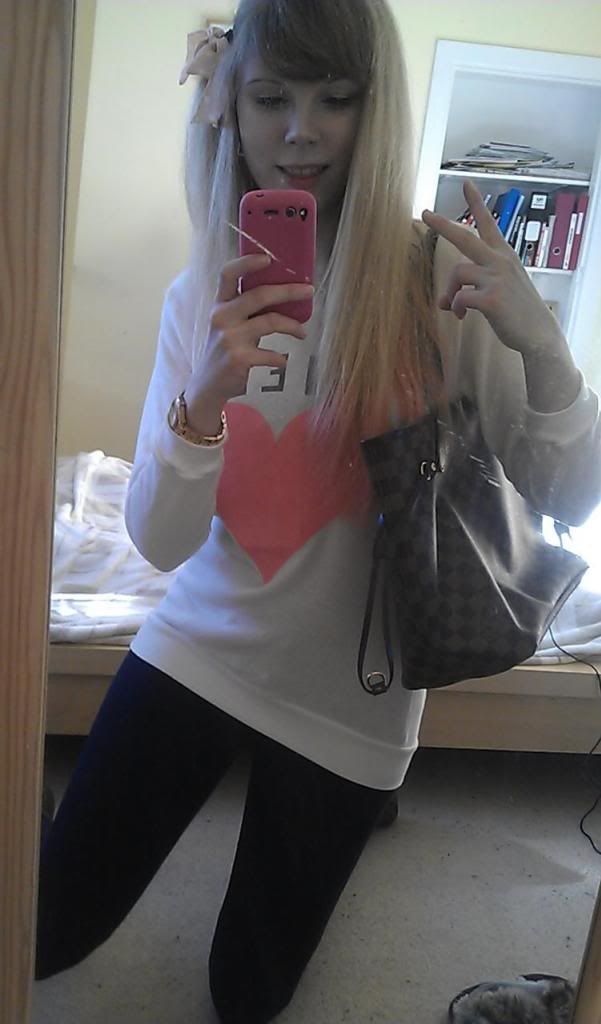 And to end this;
recently bought cheap pearls and so on to decorate my phone case ♥
It's almost done so I will reveal it to you soon :)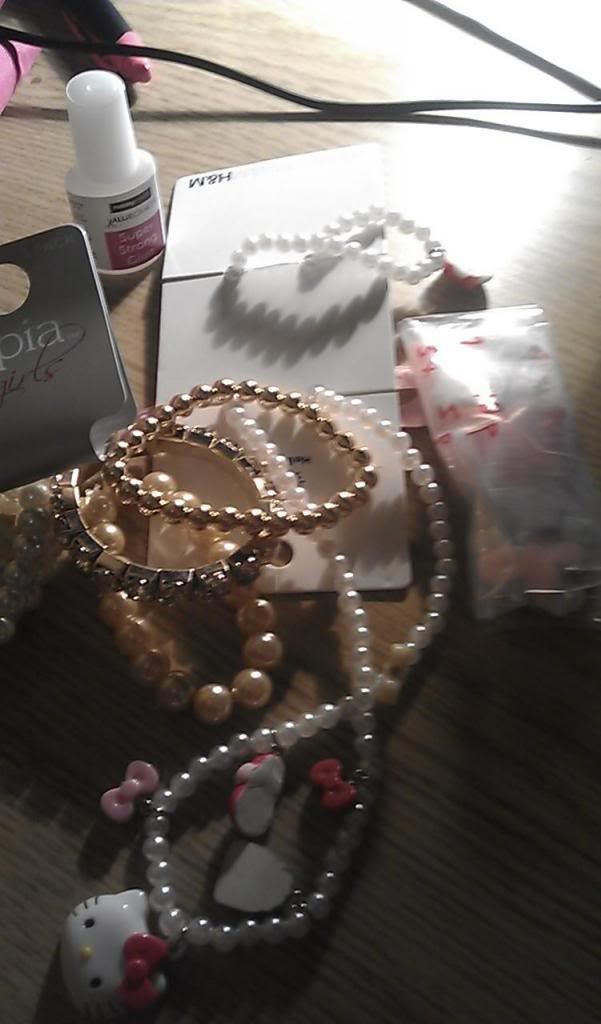 Random question for a random post.
What was your favourite meal when you were a kid? :D
I thought about it today and yeah, it was plain pasta with butter.
The reason why "mantequilla" was my first Spanish word-> we travelled a lot to Spain when I was 6-10 and I guess I knew 'Hola' but that was about it. I would refurse to eat anything with a sauce so I had to learn the word 'butter' to order at restaurants :D call me crazy...
Today I wanted to see if it still tastes as good as it used to. And I must say: YES INDEED.
This plain-butter-pasta was so tasty ^-^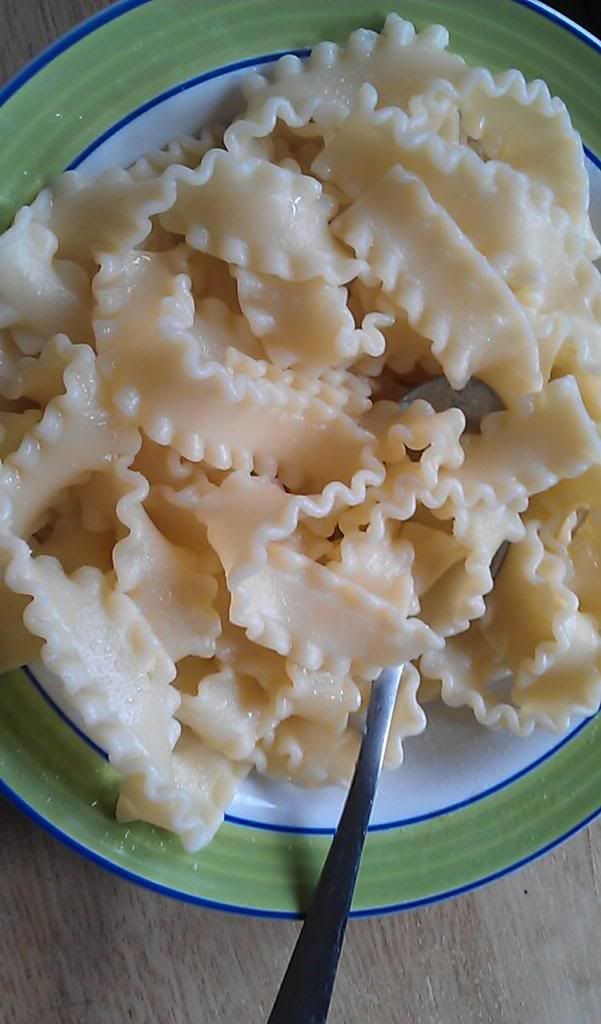 Hopefully I did not steal too much of your time. But it's a Sunday, right?~
xoxo Keki