Hello everyone ♪
I am back from London Fashion Week -or acually London Fashion Weekend. It is a shame we could only stay from Friday to Sunday in London~ I'd like to live there pff.
It was a truly amazing trip with a rather unglamorous way of getting there (Bus, 12 hours), but I will blog about it in more detail this week.
First I wanted to make this post here, because then I can finally shut up about Louis Vuitton.
Until I buy my second one hehe
:>
Instead of being all like 'well, look what a fancy bag I have' I was thinking of making this a little more informative. Now on we go!
My Louis Vuitton Shopping Experience
I've been looking for a description of the shopping experience on the Internet for ages because I can be a very considerate person and it takes me very long to make decisions. I've been craving a Louis Vuittton for a long time and I spent hours of researching (reviews, asking friends, watching youtube videos, browsing the LV online store).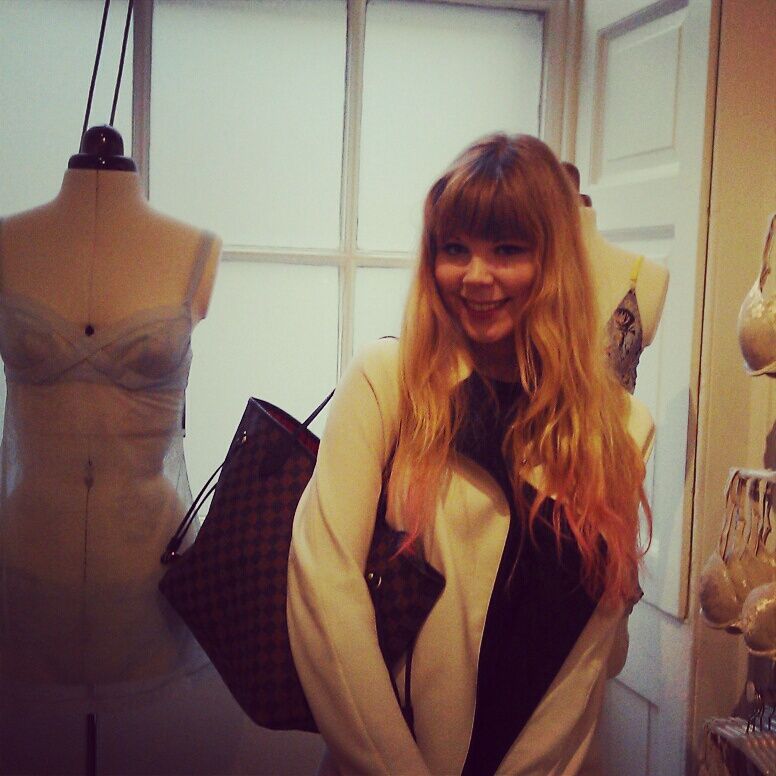 So here is some
information
about the Neverfull (my size is MM)
It's 6.7 x 11.4 x 12.6 inches ~ but what do these measurements mean? Basically, that it is a bag that will fit folders for school, university and work of the size A4 (normal paper) and is therefore a nice everyday bag.
Neverfull also comes in smaller (PM) and really big (GM) but I checked pictures of people wearing them and for my purpose and style, the MM is the best choice.
It is available in many different patterns. Choosing the pattern was a pain. I looked at:
- my style, my wardrobe
- the fact that I hate being (too ;D) boastful or showing off a label so actually Monogram was never an option for me
- the fact that I want to wear it throughout the year
- the opinion of those close to me as well as 'strangers'
Sometimes limited editions come out that are a little more expensive but oh-soo-pretty. Check
Suki's post about the Rayure for exmample.
Let's look at the bag itself
:
The pattern
♥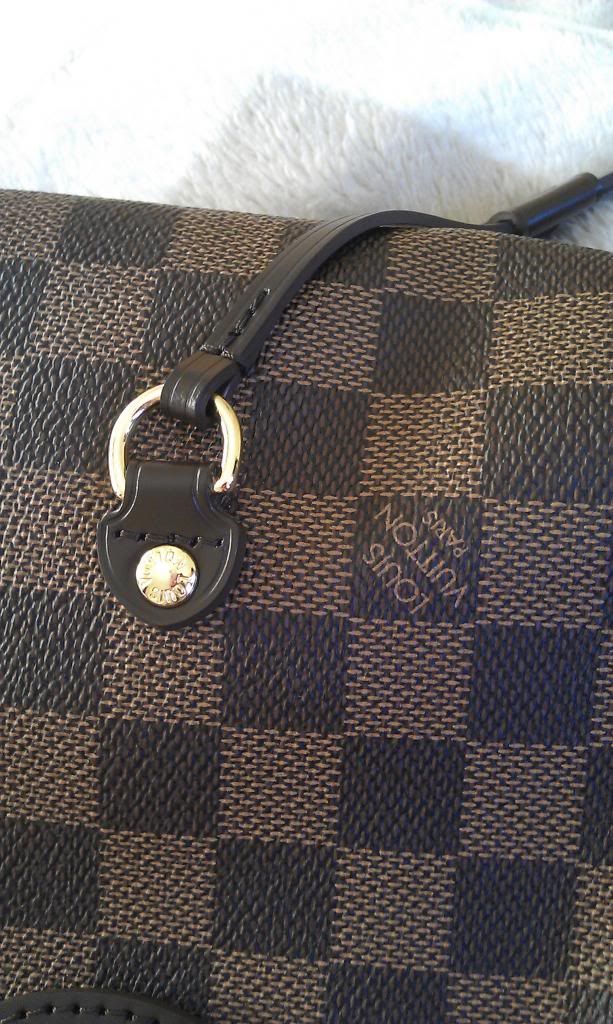 Damier Ebene Pattern♥
When I had bags with azur & ebene both in my hand, ebene just felt right and it suited me a lot more than expected ~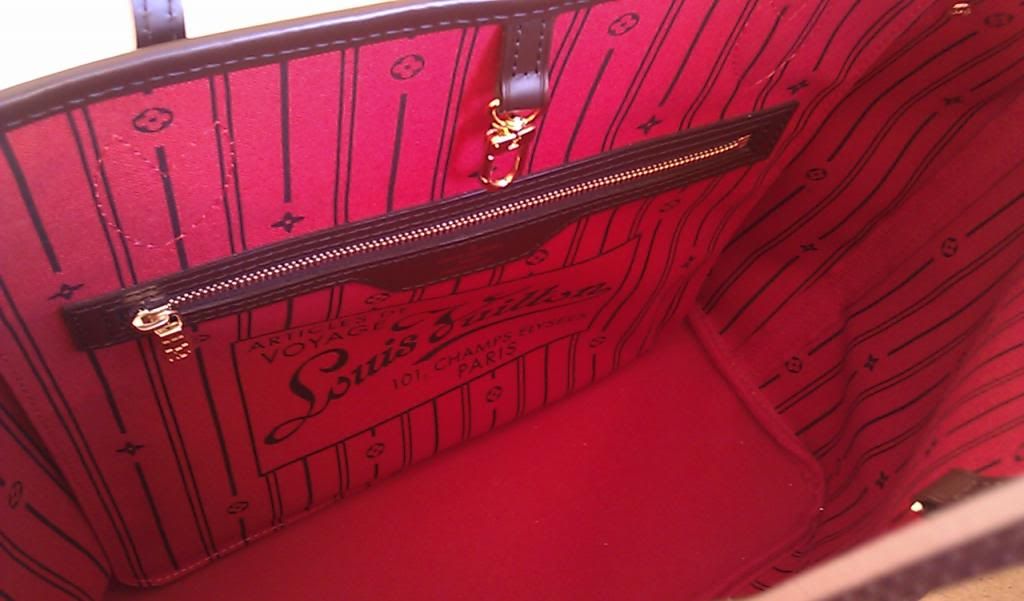 The inside is such a beauty. A wonderful red. Don't know about you guys, but I am always happy when things are nice from the inside (shoes, wallets, my pencil case) ♪
Also it says "Made in France" inside. These days, most LV bags are made in either France
It's coated fabric with cowhide leather trim and the straps feel very strong. They don't hurt at all and our awful bus trip with lots of luggage already proved that I made the right choice. You can really tell that the quality is 'as great as they say'.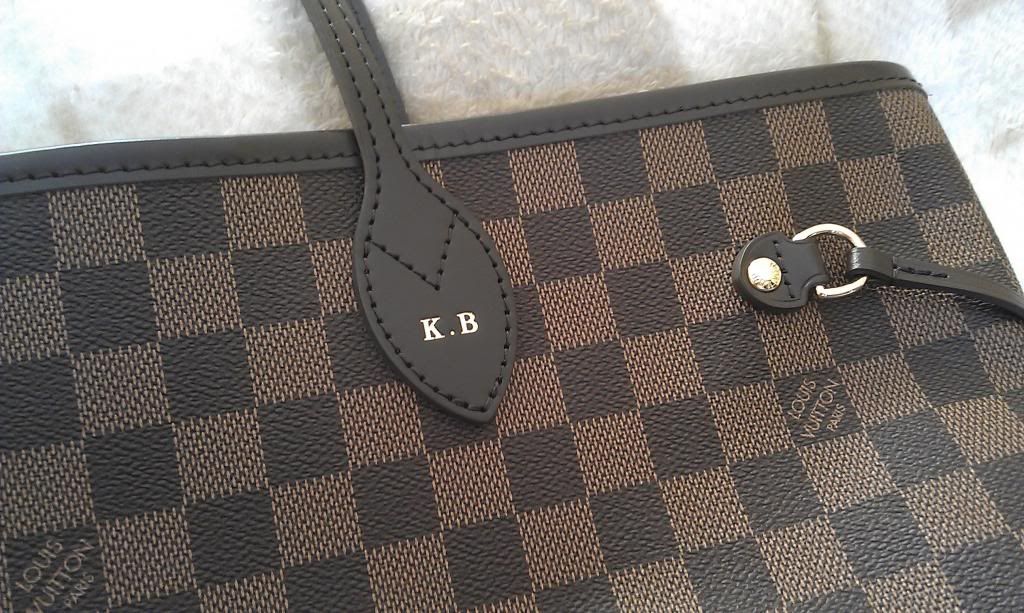 This probably made me smile the most. Louis Vuitton does hot-stamping for free. You can place your intials nea the straps [see picture], many fonts and colours (I chose shiny gold as it appears in other parts of the bag) are available. I took my time for deciding how I want it to be.
The only thing that bothers me a tiny bit is that it has
no zipper
. I am very paranoid! One of my best friend's wallet AND ipod got stolen in Barcelona and on the trip to London, someone stole a friend's wallet.
Things like that make me really upset >.< The only thing to do is, unfortunately, to be extra careful. Luckily the inner pocket of the Neverfull MM (and deffinetely GM) is big enough for my massive Ted Baker wallet ♪
The Shop & The Staff
I doubt it's just me who gets super excited and nervous when entering an LV store. Truth is, I am not one of these people with loads of designer stuff at home. In fact, this LV is the first 'real' designer Bag I own (if you exclude labels such as Fossil and Juicy Couture) and I was worried that the staff would look down on me.
I've heard and read horror stories about people who were asked to leave when entering an LV store or about arrogant sales assistants ~
This was absolutely not the case.
The atmosphere in the shop was really nice and soon I wasn't nervous anymore but just excited! °w°
They let me touch and carry around all the items and I felt taken care of. Nobody put pressure on me and I was sure to have my sales assistant's full attention. He neatly presented all available patterns infront of me.
He introduced himself with his forename (ok, maybe for those who know LV this is nothing special...but since he was really handsome and charismatic, I was like "OMG YES PLEASE OF COURSE I WILL CALL YOU NICLAS" in my head ;D joking)
Emilia probably felt the same as she was with me :) I'd recommend taking a friend with you because then you can share the experience and chat to them if you are nervous. She also did a "before and after LV" video of me which you won't see because it is so embarassing >//< ♥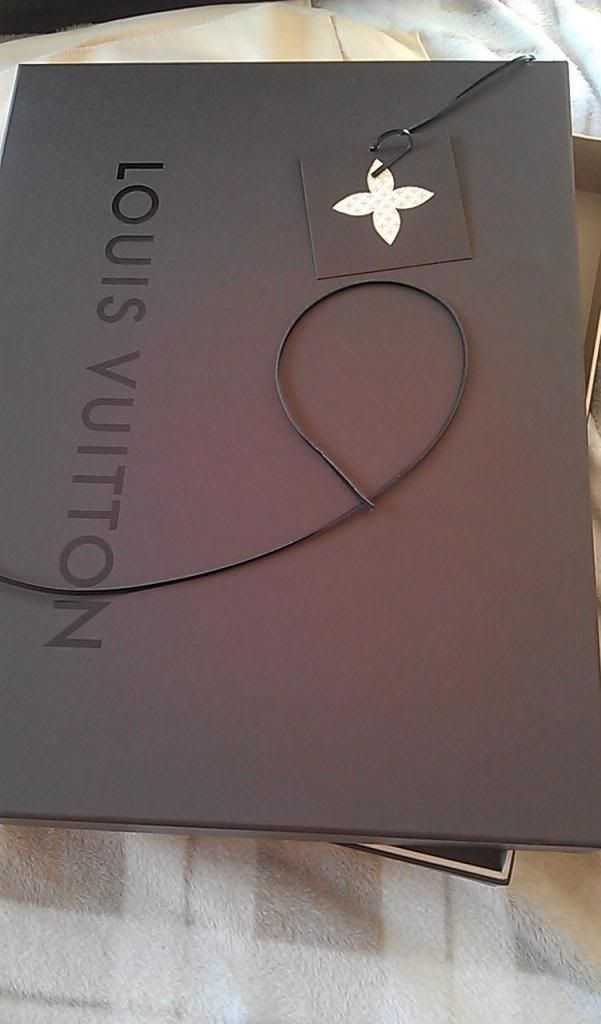 The Neverfull came in a nice bag and a box + dustbag of course. Carrying this around in London and back to Aberdeen, however, was so troublesome. I'm very funny about shopping bags ~ I always want to keep them so that I but them on top of my closet or something as decoration haha ;D So yeah the surrounding of my Neverfull got a little smashed during the day :(
Money

(pretty bill, huh?)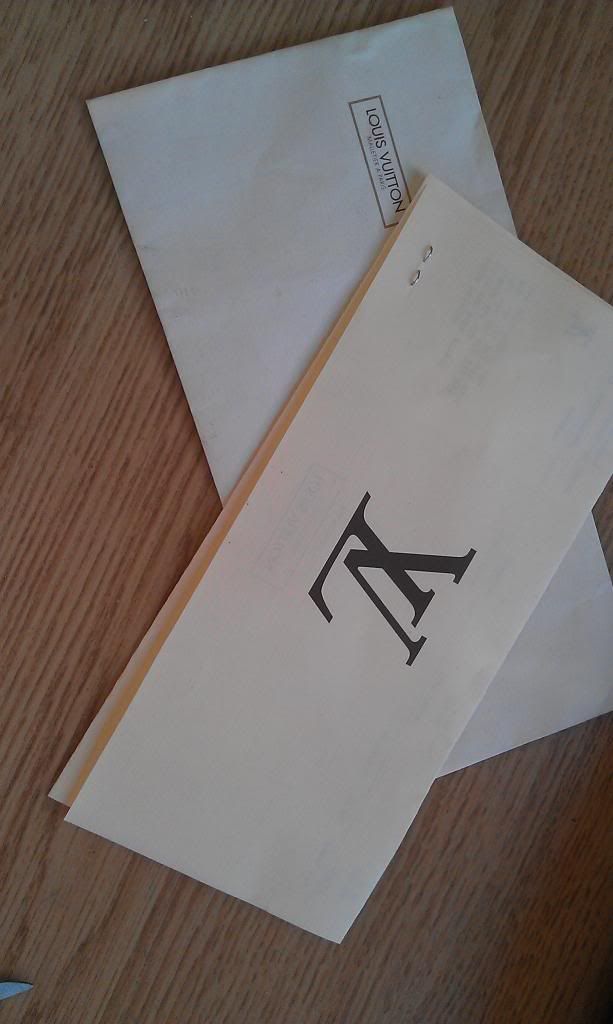 For those of us who do not lead a gossip girl life, purchasing an LV will kinda hurt the wallet. I put 'kinda' because if it is something you truly want, don't think "Or, for this amount of money I could buy 100 bags from Primark".
Do you really want 100 bags from Primark?
I realized that part of growing up is investing in things that last for a long time but I know I do not need to justify my decision as I hope I'm not being judged.
I saved money for a long time, my hands were shaking when I typed in my PIN code of my Maestro Card, but this bag was my ultimate treat: My favourite bag, bought in my favourite town while I was there for Fashion Week.
The bag in action ♪
Photo taken at Somerset House, London
xoxo Keki