Hello:)
First of all: Be prepared for a long post hehe.
Also, I decided to write only in English from now on and give up on French posting. But who knows, maybe I will get back to it one das. It's just very tiresome and it makes entries very long.
Wow, this week was busy, ans guess why? My dad came all the way from Germany to visit me here in Aberdeen. I was and still am so happy, because this town is not excactly a sightseeing town. This is also why we took many trips ♥ One of them being our day trip to Edinburgh.
This day was amazing! Edinburgh was, of course, not destroyed during any of the wars so the traiditonal buildings and the famous castle remained in their traditional architecture.
Unlike other towns, Edinburgh is very easy to walk around in because most of the places are close to each other. We did not discover the whole city because that would take ages, but we snapped pictures of some wonderful buildings ♥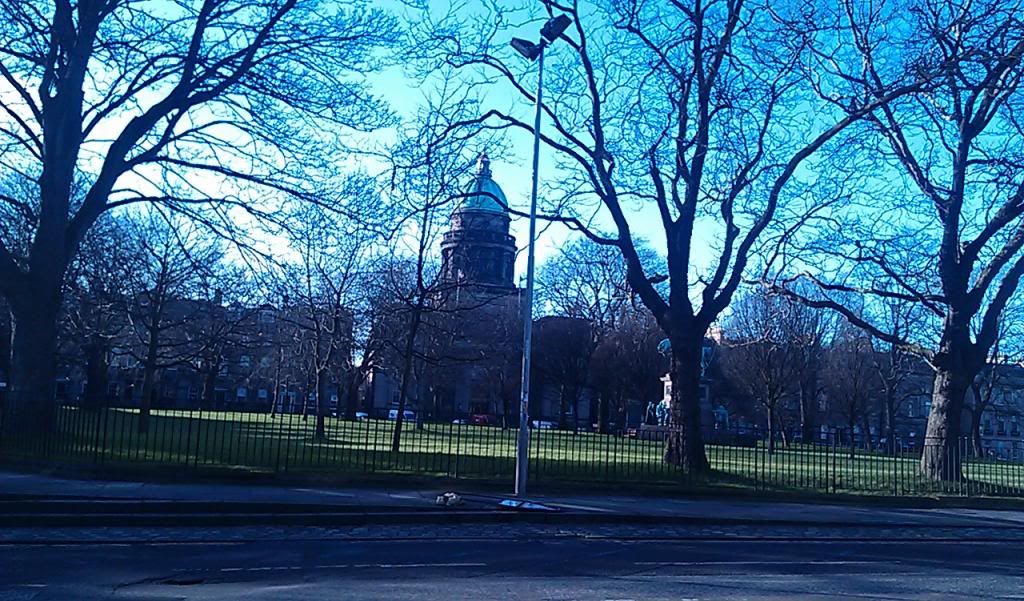 On the second picture you can see Jenners, a very old department store. It reminds me of Harrods in London a lot.
I love going to capitals, no matter whether it is Paris, Berlin or London (although London is my favourite). I believe that they always have so much to offer: sights, culture like theatre, concerts, mueseums that are actually interesting...and of course shopping. Since this blog mainly focuses on that aspect, let me talk about shopping the Scottish way haha! :D
I was meant to get up at 6, but my dad woke me up at 5. :D I guess he was excited? Which is rather cute haha.
"Let's go!!"
"Dad, it's 5 am..."
"Oh, I thought it was 6."
The bus tour took 3 hours which is okay considering the fact that we then did not have to pay 3 times more for the train. Seriously, trains in Scotland are *bloody* expensive if you don't book way in advance.
We arrived in Edinburgh at lunchtime and went straight to a nice café where my dad stayed because...I wanted to have a look at some shops and he preferred sipping a coffee. Edinburgh is such a good place to shop, ahh ~
But we went to most of the shops together.
My dad felt generous. Win!
But I don't want to simply show you the gets so I decided to do two reviews.
Number one: White Stuff- here is their webside
Hehe
I only bought a pair of socks. Exciting, right? But first of all, they are lovely and second, just look at the gorgeous shop layout.
The atmosphere in "white stuff" was so nice. Very calm and relaxed, maybe because it is a weekday but also because it is lokated in George street , so that's parallel to the main shopping street. So once you are on Prince's street, just take one of the streets up, and you should be able to find it.
Also you can have tea or coffee for free atm in this shop :D I did not snap a picture of this, but they have some very comfy armchairs hehe.
The clothes seem old-fashioned at first, but I would say they are just a very relaxed sort of fashion. The material feels very soft and I like how nice and tidy they presented everything. You can buy very pretty comfy jumpers. Perfect for tea with friends ♥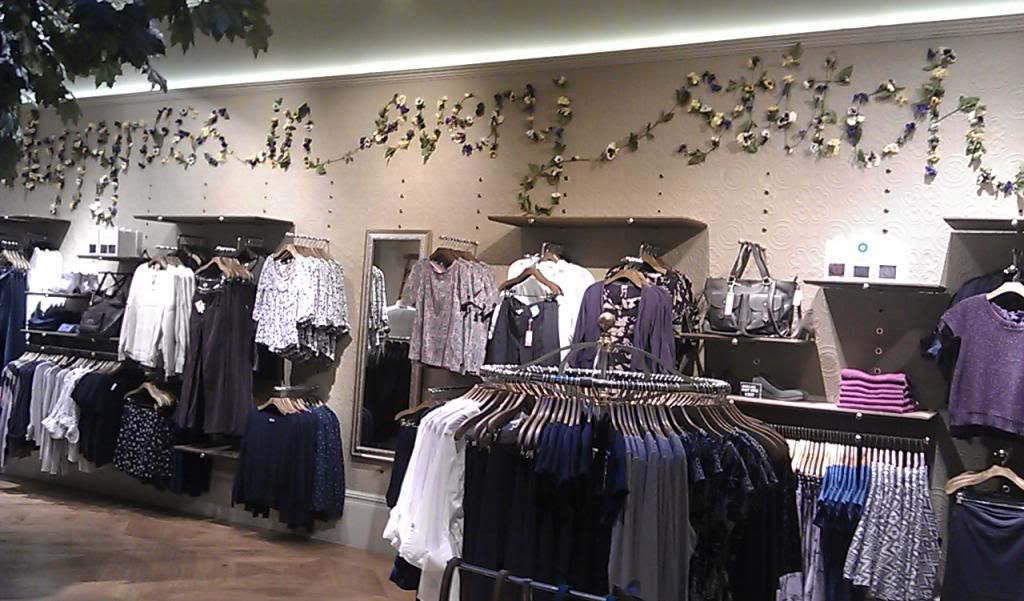 Below are the scarves. I so regret not buying one. T.T Maybe online?
The prices were very decent, all below 30 pound I think. And on the sales obviously for much cheaper.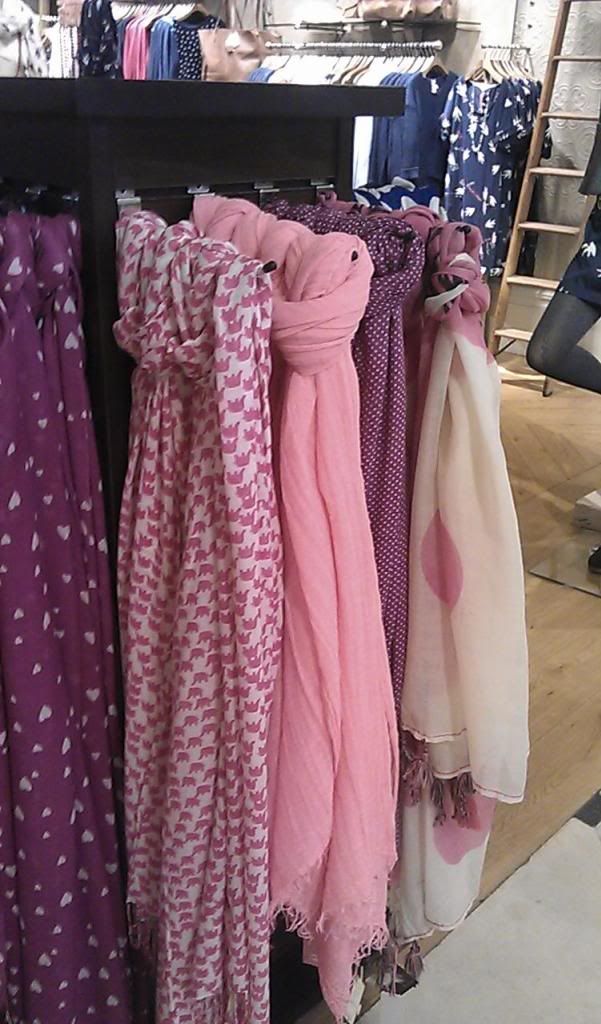 There were these bonbon glasses over the counter and they reminded my dad of good old times haha :D
And finally my socks. They are SO SOFT! I can't get over them. ♥
Review number 2 ♥ Ted Baker ♥
Ever since Brooke showed me her Ted Baker wallet at uni, I got all excited and wanted one so badly. I kept checking Aberdeen's John Lewis but they did not have any nice ones. Except for the new collection maybe (
click me
).
I bought mine at House of Fraser which is a chain department store you can find in many places in the UK. House of Fraser is very big in London and the branch in Edinburgh was slightly smaller but still nice.
The staff was very attentive & I like how Ted Baker always has matching bags with the wallets they design.
And I was lucky because it was on sale! 50 pounds is still a lot, but...well, it used to be 80 quit. I don't really care about what is in fashion when it comes to wallets because it will last me a few years anyway.
And it is so nice ♥
You can tell how well it is made. Hm maybe I should've inlcuded a picture of the inside the wallet? I am too lazy to do that now ;D
What is more important is the feel to it.
Ted Baker does all sorts of colours, but I am happy I chose red because it's really bright and makes me get in a good mood.
I think you can even carry the Ted Baker wallet's as clutches? :3
Let me know what you think about it.
To take it safely home, I got a box. The only negative point is that the wallet might get scratched easily because they put this shiny material on top of the leather. On the other hand, the "shinyness" is exactly why I bought it so I must not complain ;D
♥
My dad and me also visited a store where you can buy very expensive, classic bags but I decided not to buy one....yet. London is still to come (February 21st-23rd) and maybe you can guess what label I have in mind ♥ Suki know it haha ;D
We had our lunch in a nice restaurant that I forgot the name of, sorry. And not even a picture! I guess the reason for this is that I had so much fun with my dad and that I was enjoying every minute of our time together...:) I subconciously didn't want to waste time with taking pictures and I simply forgot to do so XD Stupid logic right? ~
But I am sure you know what I mean.
That's also the reason why I could never do an unboxing video like the girls on youtube do. If someone ever gave me ... a pack full of Mac Goodies, I would not be able to resist and just ripp off the packaging and put on some of the make-up right away haha.
♥
My dad and me were very well aware that Scotland is not France, but we simply had to buy the macarons when we saw them. I already ate 2 of them and they are so tasty. Way better than in Aberdeen. ♪ Carmen recently promised me to show me how to make them! Yes Carmen, if you're reading this, be prepared XD I have not forgotton about it haha ;D
Hugs and Kisses ♥
I hope this was not too much text.
Thanks for reading ~
Keki
PS: My dad and me went to other places as well and I will try to blog about that too at some point. Visiting towns is always so great *-*