Hey everbody ♥
OMG I have so much extra enegry, I can barely sit still these days and I know why, but I will tell you this in my next post~
It's really exciting (at least for me) so stay tuned for that.
Today I will focus on my favourite colour. No, just kidding but many of these pictures have blue in it ♪
I wanted to do this little picture post on Sunday.
However, that's when I met Emilia to catch up on uni stuff
and have a nice green tea at starbucks hehe
. So I was busy. As you know, my dad was here last week so I did not do any university work at all.
Further down is also my promised hair care routine.
Here we go ♪
♥
Sunday. We tried on the same dress but none of us bought it haha. It doesn't fit right.
Just a random outfit and I recently bought my first red lipstick ever. Okay, it's technically not a lipstick but I am really shy with these so Revlon's Lip butter does an amazing job at moisturizing you lips. And it looks quite decent ♪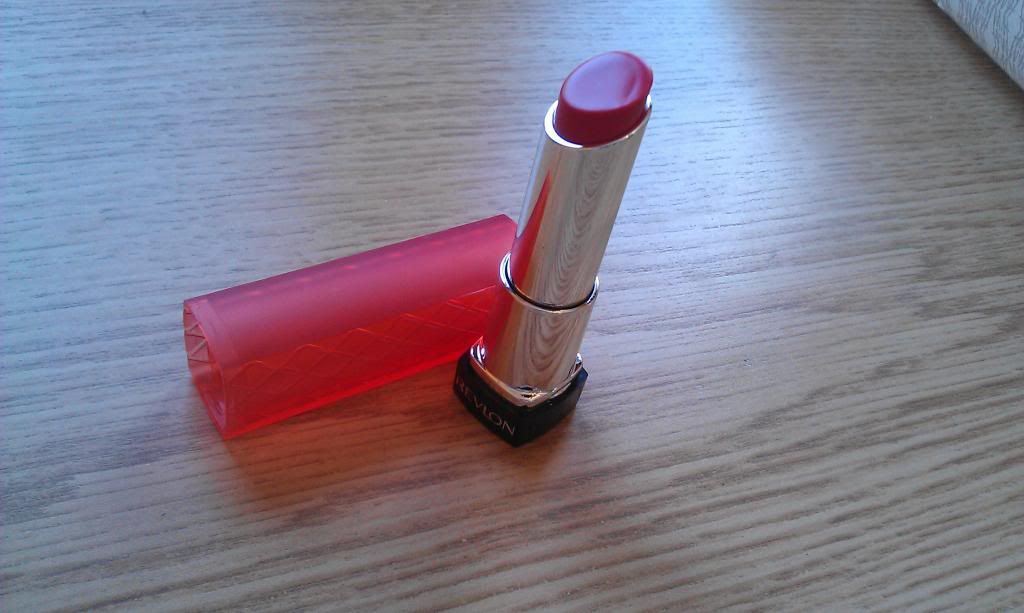 I am too tall for this freakin' mirror!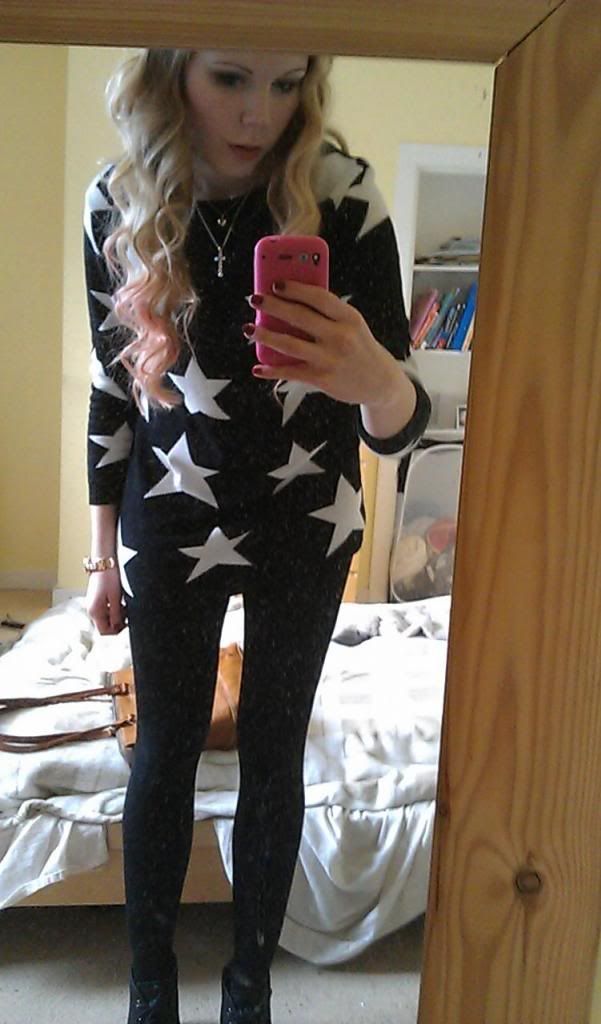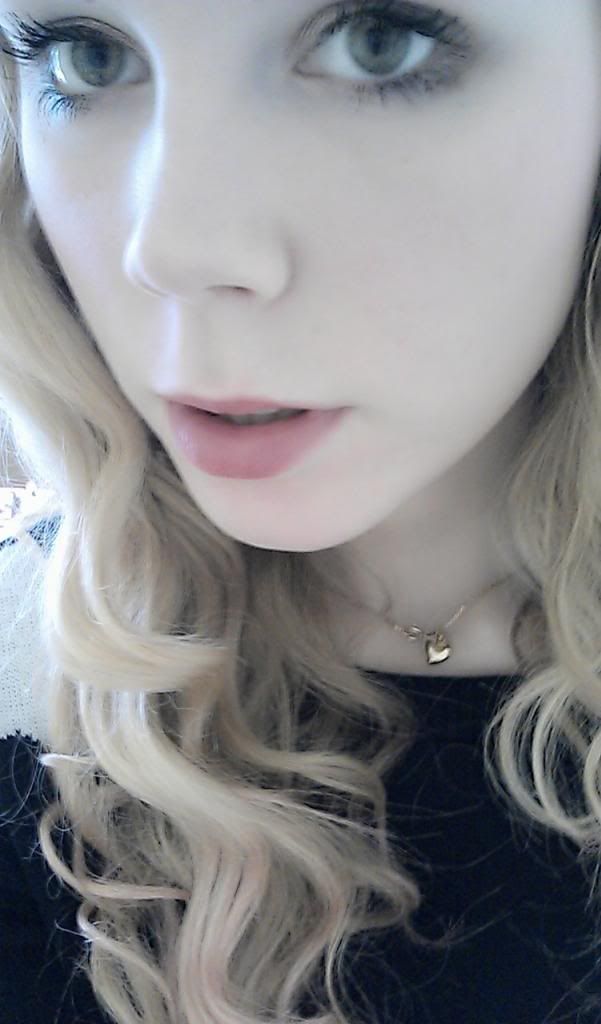 Soon I want to wear this new shirt my dad got me. It's a relief that my mum does not read this blog. If she knew how much money we spent..Oh lord! :D
It has really quite details. And it's the first big bow on a shirt that I've seen in the UK.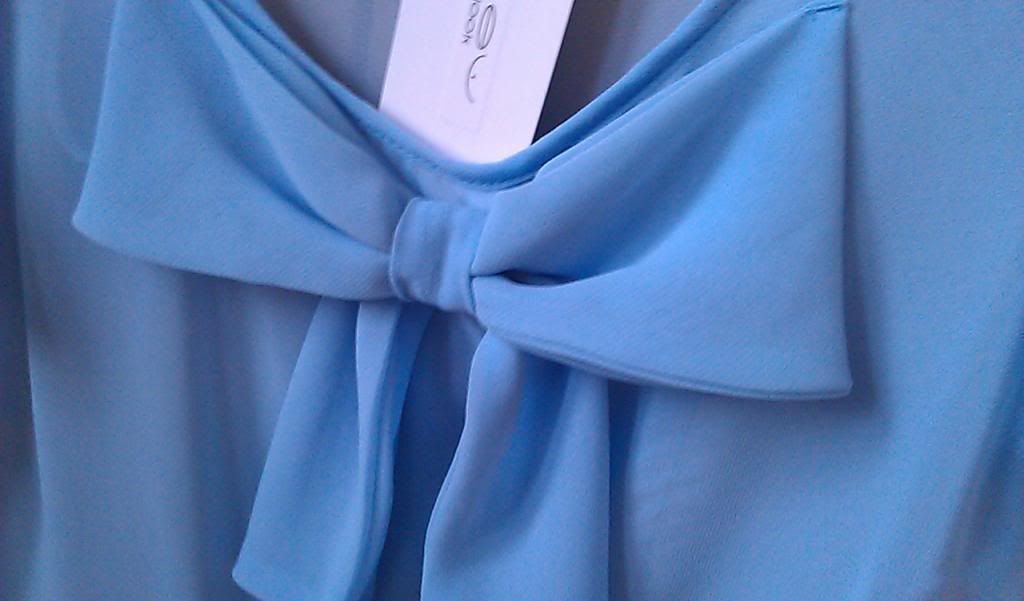 My dad says that blue is the colour which suits me best. I know many people thing I love pink because I am "such a girl" but I am always craving blue stuff. My whole wardrobe is full of blue tops! I wear them all the time. And my new workout shirt is blue as well but no picture of that...yet ♪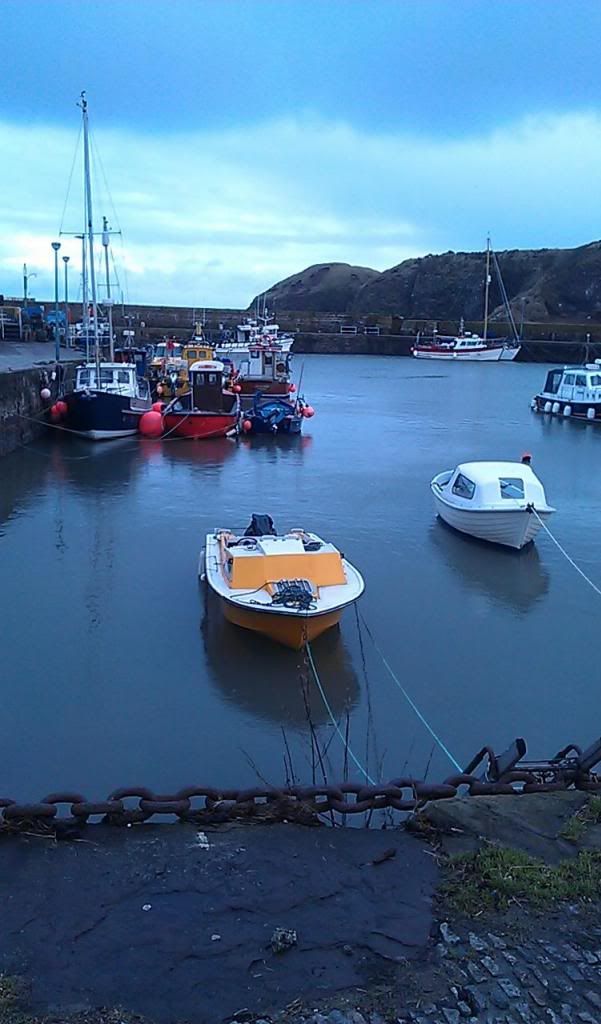 We visited a town called "Stonehaven" and the have the weirdest local speciality EVER. Fried Mars Bar!
Click this for Wikipedia Proof ♥
Unfortunately, the place where these are made, was closed. I want to go again one day, to really try it :3 Sounds disgusting and interesting at the same time, right? Because..why would you fry greasy chocolate?
On the bus tour to Edinburgh, my dad got me a book and then for Stonehaven another one. His favourites are the horror classics! ~
I was a lot into Dracula when I was little and who didn't like the whole vampire stuff going round ever since Twilight came on? Big confession here, I do love the books by Stephany Meyer, even "the host" which not many people know. It's a great book :3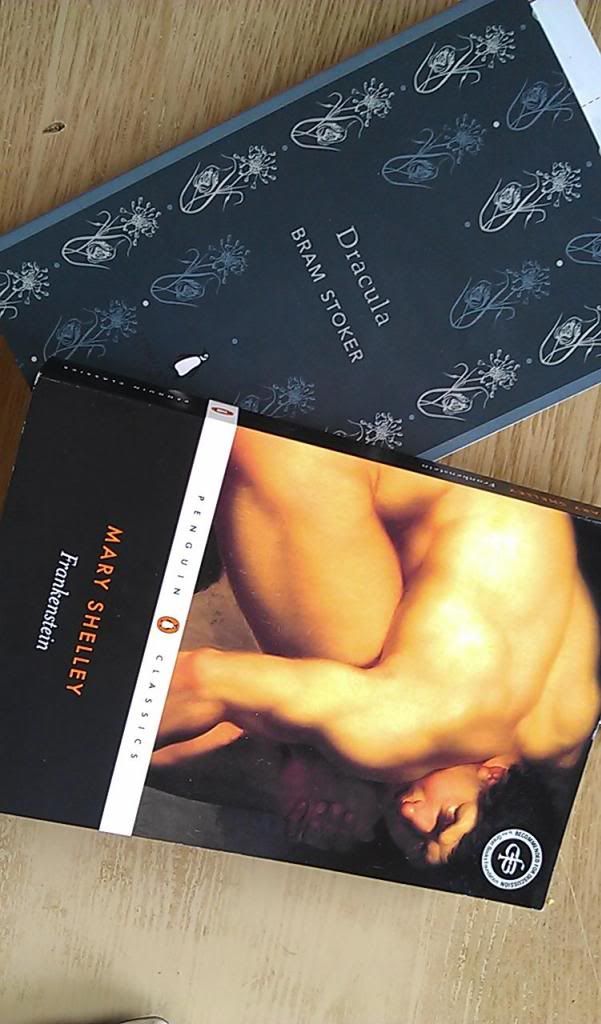 Frankenstein is a little bit...eew. But read it for yourselves ;)
And now from Horror book to haircare routine! Hey it's my blog and I can do what I want haha XD
My hair (facts)
Except for pink dip dye, I've never coloured it which is also why the top part of it is darker than the bottom. Blond gets affacted by the sun easily so every summer by "old hair" at the tips got even lighter.
I hope you understand what I mean.
It's thick (I sometimes hate this fact) and sometimes straight, sometimes wavy.
It has it's own moods♥
Now enough of the blabla
Products:
- Dove combination (either the oil care or this one here): Shampoo and Conditioner
- I used John Frieda for very long, but Dove is like a third of the price and does the same job
-A treatment, mostly from Dove these days
-Heat protecttion, right now I use a cheap one from a local supermarket because I left my nice John Frieda spray in Germany.
- Nivea Hairspray if necessary
When I use them:
- I only wash my hair every 2-3 days and there exist so many debates on how often you should wash your hair that I will not go into detail ♪ But I use both Shampoo and conditioner.
- the hair treatment is a
treat
for my hair, so I only do that once a week as if I would get a chocolate bar
- heat protection always before styling with straightener/curling iron or blow dryer. Yes, even the latter!
- Hairspray only when I go clubbing or on a very windy day but I am not happy with it. Anyone can recommend a good hairspray?
Styling:
With this little goody here.
I think the GHD stylers are so worth it. They cost a hell of a lot of money (around 190 euros I believe) and I saved up for ages for it, but now it's in its second year and it looks brand new. And works just peferctly ♥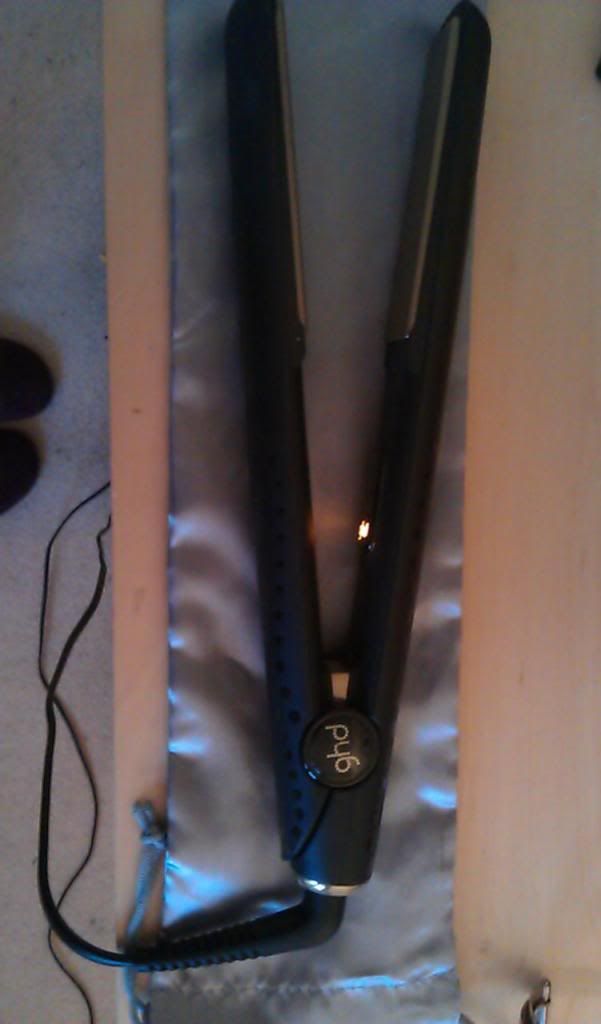 GHD Hair ♥
And getting it this smooth looking only took me like 5 minutes. No kidding.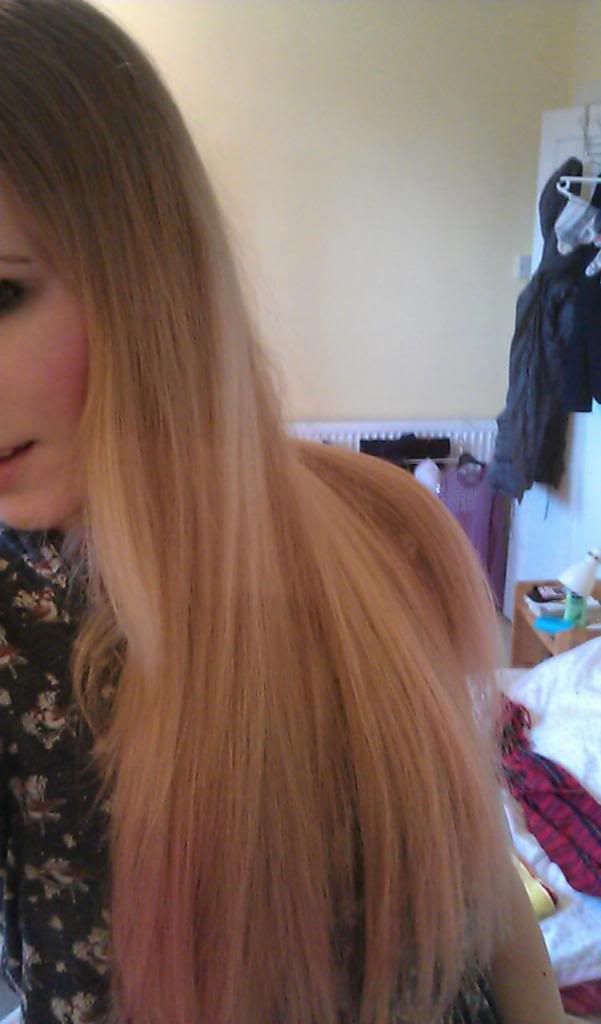 My curling iron is from Remmington but no picture because it's nothing special :3
Personal tips:
(I don't want to do too much of the blabla that magazines do!)
- Don't blow dry if you can avoid it! Heat damages your hair. Period. Instead, watch an of your favourite show or do other beauty stuff while it's still wet.
-Rinsing it with cold water really helps, it's not a myth.
- try to leave your hair loose as often as you can or wear a very soft hairband so that you don't damage it.
-don't smear too many styling products in it. As you can tell from the list, I go to the absolute minimum and I am completely happy :)
Think of your hair as a child: As a parent, you wouldn't want to spoil it too much, right?
Now here is a tip for
greasy hair...
I've heard from a few friends that it really helps to NOT wash it for at least 3 days. Do that during exam-time or on an in-bed-weekend. This helps to get most of the grease out because, yes, hair can actually get even more greasy if you wash it too often. Also, don't use too much shampoo. The decent shampoos should all produce foam with just a little amount of them :) And you don't have to rubb foam into the tips as the foam going from the top of your head down on your hair will clean the rest of the hair :)
How about you? How's your hair like? Are you generally happy?
And no, Dove didn't buy me haha I just seriously love their products as they are also affortable on a student budget.
Hopefully this post was not arrogant or anything. I've just found so many things that other people post really helpful (skincare, nail designs) that I wanted to participate as well ♥
xoxo
bisous,
Keki
PS: One more thing that might sound arrogant too. Typing errors aside, I can feel my English getting so much better. Today one of my friends from Mandarin class said to me "You sounded really scottish right now!"
After I said "(blabla) I do not like the scottish food" in a way that sounded more like " I doo no't li
k
e the sco'ish food"
It's hard to type but check out the scottish accent. I am slowly getting there >.< ♥